The Sanctuary Bed & Breakfast accommodation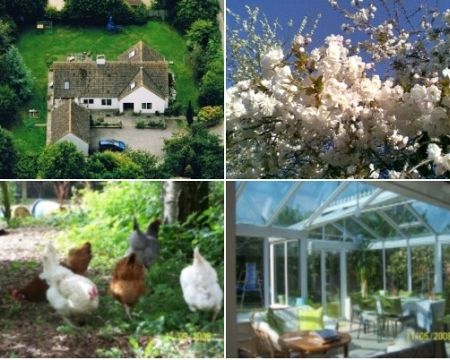 The Sanctuary Reviews

Sally from
Couple in sixties
on holiday
Large and comfortable room and excellent breakfast. Rebecca and Keith and their daughter were very helpful. Convenient for the Ridgeway trail. We walked to Avebury and explored all the sites round there on the Sunday, and Keith gave us a taxi ride back to the house in the evening.

Elaine from Hertfordshire
Guest

Lovely bed & breakfast home from home would definitely stay again the hosts were extremely lovely the breakfast was top standard good value for money we will be back.

Sharon from Kingston Upon Thames
Couple

What a lovely stay. My partner is Vegan and Rebecca took so much trouble over his breakfast. Soya milk and yoghurt provided without having to ask (which always embarrases him) and even Vegan cheese to go on the baked beans.



Fresh milk provided in the room for me for my tea and a pot of tea and cake upon arrival after a 12 mile hike of the Ridgeway.



They really couldn't have gone to more trouble to make our stay as comfortable as possible.



Would stay again

Recommend to a friend

Value for money

ALASTAIR HUNTER from Glasgow
Couple

A comfortable and welcoming place, with friendly and helpful hosts

Would stay again

Recommend to a friend

Value for money

Cynthia from Morecambe
Guest in sixties

Lovely room and great breakfast

Would stay again

Recommend to a friend

Value for money

Martin from Shropshire
Family

Hospitable from the moment we arrived, and breakfast was a great set-up for the day's walking ahead.

Would stay again

Recommend to a friend

Value for money

Phil & Sheila from Rotherham
Guest in sixties
on holiday
Restful stay in a clean home with a friendly and considerate host, in a beautiful location

Would stay again

Recommend to a friend

Value for money

Doug G from Oxford
Family

A lovely bed and breakfast in a homey setting. My wife and I and our two grown sons were walking a segment of the Ridgeway and needed a place to stop midway between White Horse Hill and Avebury. The Sanctuary was a welcoming and friendly place to stay, easily accessed from the Ridgeway. Euan made us feel very much at home with wonderful tea and cake on our arrival. Rooms were comfortable, spotlessly clean, and nicely appointed. Breakfast was abundant and well prepared, and all needs were catered for (two vegetarians). Euan even prepared packed lunches for us, at very reasonable additional cost. I would recommend the Sanctuary to other Ridgeway walkers or anyone else looking for a cozy and comfortable place to stay.

Would stay again

Recommend to a friend

Value for money

Dr. Hans + Rotarud Philipp from Oberndorf, Tirol, Austria
Couple in eighties

Coming from Austria we staid from July 22nd to 29th, 2017 with Rebecca and Keith in The Sanctuary, Ogbourne St. George.

The walks over the hills, the visits of Avebury and Marlborough were great experiences. But the stay in their home within their family was really the top. Their hospitality was overwhelming.

Many, many thanks

Would stay again

Recommend to a friend

Value for money

Karen from Cotswolds
Friends

Very good b&b accommodation with excellent breakfast from friendly hosts.

Would stay again

Recommend to a friend

Value for money
Availability at The Sanctuary
Twin en-suite (or king-sized dbl)
Family room, 1 double + 1 or 2 singles
Facilities at The Sanctuary
Free WiFi
Flat and level site, with all guest rooms on the ground floor
Secure garage space for motorbikes and bicycles
As we provide relaxed and friendly accommodation within a family surrounding, children and dogs are very welcome as well.
Dogs welcome, with donations to Black Retriever Cross Rescue
Packed lunches, plentiful supply of books and magazines, maps and guide books for walkers
Special offer
To view special offers on BedPosts you'll need a guest account.
If you don't have one, it will only take a moment of your time to create one.
The Sanctuary Bed & Breakfast
The Sanctuary in Ogbourne St.George is praised for spacious rooms and the quality of the meals. Local produce is used when available, from their own garden or local suppliers, with eggs from their own hens.

It has three spacious rooms with good facilities. Children and dogs are very welcome as well.
Ogbourne St.George is in the Og River valley, which lies between the Marlborough Downs and Aldbourne Downs. It is equidistant from Marlborough, Aldbourne and Chisledon. The village is well positioned on the Ridgeway Trail which goes from Avebury and Overton Hill near Marlborough all the way to Ivinghoe Beacon in Buckinghamshire.
Photos of The Sanctuary