The Old Rectory Bed & Breakfast accommodation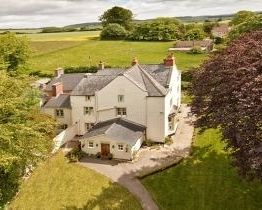 Facilities at The Old Rectory
Internet access free
Guest bedrooms on 2nd floor
Lights suppers on request
Off-street parking for up to 6 cars
Our family suite can accommodate up to 3 adults 1 child and a baby ( travel cot provided) or 2 adults and up to 3 children
Please check as we are only able to accept 1 dog
The Old Rectory Bed & Breakfast
The Old Rectory offers good value quality accommodation compared  with hotels near Stonehenge. It has been sensitively and stylishly refurbished by the present owners Lynda & Colin Masefield. Guests are assured of a warm welcome, and friendly service in lovely surroundings. The Old Rectory is conveniently situated  in its own grounds nestling next to All Saints Church. The bedrooms have been beautifully decorated with full en-suite facilities including a lovely family suite.
 
We have all the modern ameneties required for business guests , tourists and of  course families. We offer complimentary use of a computer. Should you have your own laptop free wifi is available throughout the building. We have  library corner with a selection of reading books as well as, local books, tourist information leaflets and maps for your use during your stay.
Stonehenge 15 miles from this ancient, awe-inspiring creation  English Heritage site 
Salisbury 18 miles to this Beautiful  Medieval Cathedral City 
Stourhead 8 miles to the spectacular National Trust Gardens
Longleat 12 miles to the Famouse Safari Park and House of Lord Bath
Avebury 20 miles to one of the most impressive of all remaining pre-historic earth works in Europe
Shaftesbury 9 miles to this lovely  market town famous for it's Gold Hill Hovis commercial
Bath 28 miles to the to elagent Georgian City of Bath
Center Parc Longleat 9 miles
We  offer a great location base for your holiday and to explore the many local attractions.
Family friendly
Walkers welcome
Cyclists accomodated
Parking for most types of family and business users
We have lock up facilities for bikes and drying facilites for both walkers and cyclists
Photos of The Old Rectory