Dowfold House Bed & Breakfast Bed & Breakfast accommodation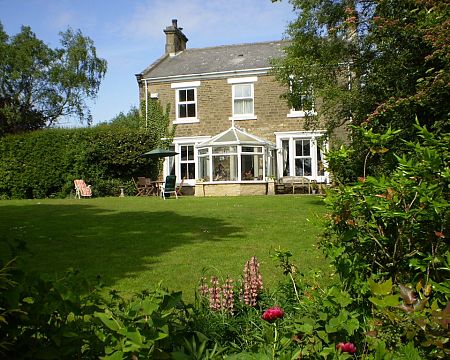 Dowfold House Bed & Breakfast Reviews
Facilities at Dowfold House Bed & Breakfast
Free WiFi in all parts of the house
Plenty of space and we can provide garage parking if required (subject to availability)
We have a cot for infants and a divan bed for older children which we can put in some of the rooms, subject to availability
We love dogs - and have one of our own. But, please no more than 2 dogs per room. AND, we can even take your horse!
A lovely garden and conservatory for guests' use, as well as croquet or boules
Dowfold House Bed & Breakfast Bed & Breakfast
Jill and Rupert Richardson look forward to welcoming you to Dowfold House Bed and Breakfast. This lovely, comfortable Victorian house with its delightful gardens is in a peaceful location overlooking Crook to the west as far as the North Pennines. Winners of many awards, including Local Food Hero 2013, and Bed and Breakfast of the Year, in the North East, 2011, we strive to provide a uniquely friendly environment in which our guests can really relax. And, with all our foodie awards, you can be assured of a GREAT breakfast! - full of local produce.
As a recent, regular, guest put it: Jill and Rupert at Dowfold House Bed and Breakfast are a class act. They offer bed and breakfasting in grand style, but somehow make it friendly and intimate.
Our en-suite rooms are comfortable and well-equipped, with all those little touches that will persuade you that you have found a real home from home. Here at Dowfold House Bed and Breakfast, we work hard at being Green, but without compromising the comfort of our guests. "Green, but without the hair shirt" is our motto.
And, from Dowfold House Bed and Breakfast, you will find plenty to elevate, interest, amuse ? and, on occasion, exhaust! Whether you want to walk, cycle, tour in the car, or on our splendid trike tour service immerse yourself in our unique heritage, or perhaps wine & dine on the highest quality local produce, there's plenty to do.
Crook is an ideal, peaceful, place to stay, right at the heart of County Durham. The City of Durham is a 20 minute drive away and our Bed and Breakfast accommodation is close to the A68, a major route to and from Scotland. Situated at the gateway to Weardale and the North Pennines 'the last true wilderness in England', there's lots for walkers, hill-climber and nature-lovers of all kinds.
Photos of Dowfold House Bed & Breakfast