Southern Breeze Lodge Guest House accommodation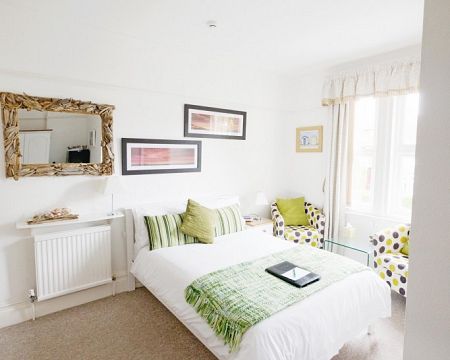 Southern Breeze Lodge Reviews
Availability at Southern Breeze Lodge
Southern Breeze Lodge Guest House
The Southern Breeze Lodge Guest House is situated on Southern Road which runs between the shopping precinct of Southbourne and the cliff top.  We have limited on-site parking and free on-street parking.

Each room has it's own identity following a Sea-side theme throughout.  All our rooms have en-suite showers, apart from one which has a bath with a shower above, and on arrival you will find a welcome pack of toiletries.  In addition all the beds have Myers Backcare mattresses and anti-fungal pillows and duvets for the comfort of our guests with asthma and/or allergies.

At breakfast you can choose from a range of cereals, seeds and nuts.  Our range of cooked breakfast choices uses locally sourced eggs, bacon and sausages.  On your toast you can spread one of our home`made jams - some made from locally picked fruit.  We also serve a selection of fresh fruit, fruit juices and smoothies which change daily.  In the bedrooms the beverage trays contain Dorset Teas, and Dorset Biscuits.

For those with with special dietary requirements we stock Gluten free cereals, bread, biscuits and sausages.   For milk intolerances we have soya, almond and coconut milks and for vegetarian meat free sausages are available. If you have any further dietary needs please do not hesitate to let us know.

Given notice we can obtain we can obtain things like bicycles and mobility scooters.
 
Southern Breeze Lodge is located about a 5 minute stroll to one of the 'Zig-Zag' paths to the beach and the Cliff Lift at Fisherman's Walk which overlooks the Fisherman's Walk and Southbourne beaches which have both received a 2016 Blue Flag award. From the Cliffs you can have a panoramic view of Bournemouth's seven miles of beautiful sandy beaches with stunning views from Poole to Hengistbury Head and the Isle of Wight.

In the other direction a few minutes walk will bring you to Southbourne which has a small town feel with many shops, pubs, cafes, restaurants and takeaways to suit a variety of tastes.

From Southern Breeze you can explore Bournemouth, Christchurch, Mudeford and Poole all of which are just a short drive away. For those wanting to travel a little further Swanage and Lymington make great days out, or you can explore the Jurassic Coast and the countryside of Dorset and Hampshire.  Local attractions include Monkey World, Bovington Tank Museum, Russell Coates Museum, Beaulieu National Motor Museum and Bucklers Hard to name but a few.

For those wanting evening entertainment there is the BIC and Pavilion Theatre in Bournemouth, the Regent Centre in Christchurch and the Lighthouse Centre in Poole. There is also a small theatre locally at Shelley Manor - home to the late Percy Florence Shelley son of Percy Shelley the poet and Mary Shelley author of Frankenstein.

Within the area there are many cinemas including the UK's smallest cinema 'The Colosseum' in Westbourne which holds only 19 people.
Photos of Southern Breeze Lodge